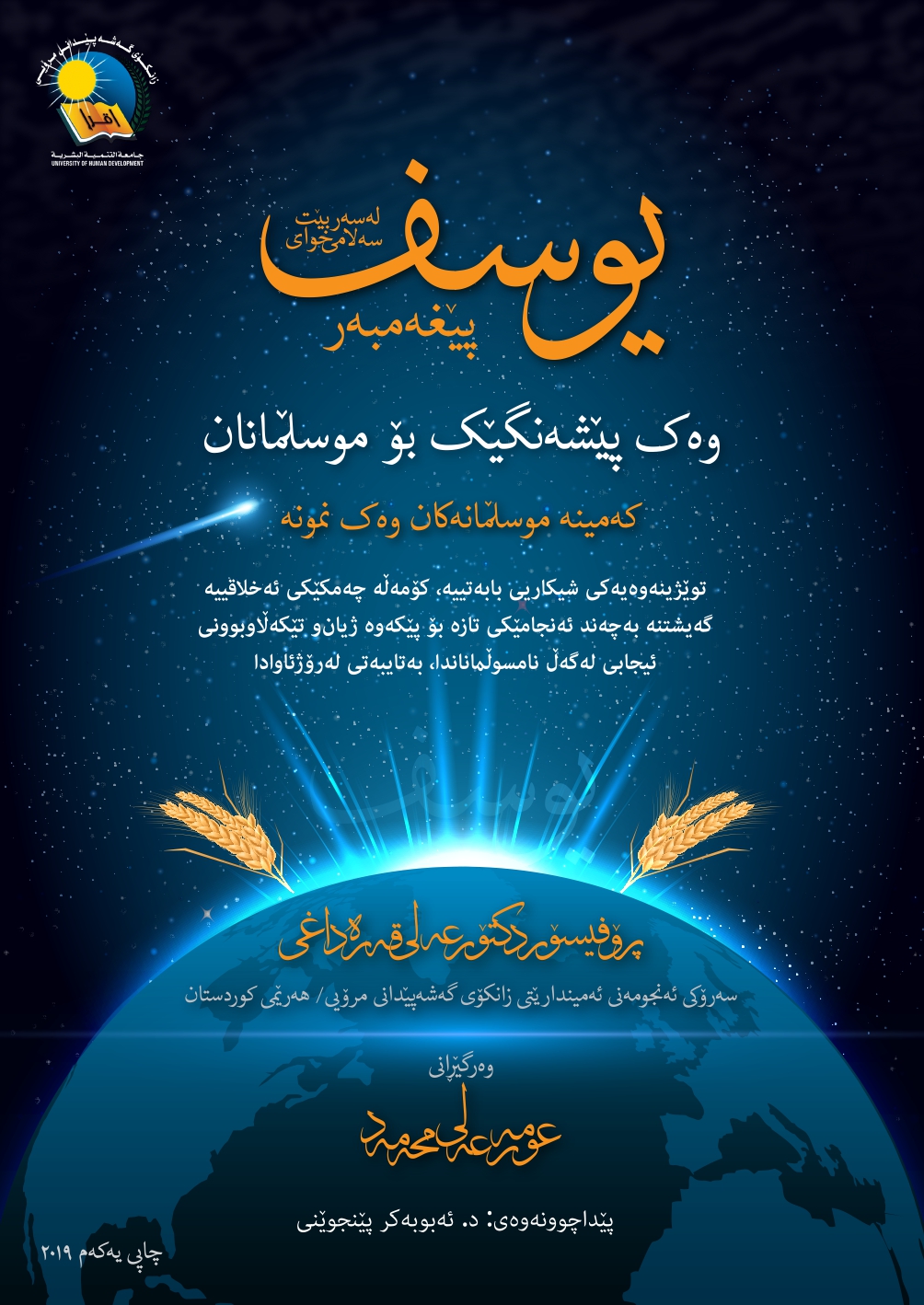 Prophet Yusuf (Joseph) as a Role Model for Muslims, Minority Muslims as an Example
Kurdish
The book, titled (Prophet Yusuf (Joseph) as a Role Model for Muslims, Minority Muslims as an Example), is a meticulous, distinct, and contemporary research and reinterpretation of the Surah 'Yusuf'. It explains the meanings behind the story of Prophet Yusuf, which occurred nearly three thousand years ago. The author transforms the story into a comprehensive resource addressing pressing concerns shared by Muslims and non-Muslims today. This book adeptly integrates the demands of the present century with the tenets of Islam.
The book comprises four fundamental sections, wherein the verses of the Holy Quran serve as the primary elucidation for each respective segment.
In the first section, the author elucidates the objectives of the book and the Surah itself. In the same section, Dr Qaradaghi talks about the lessons and rulings of the Surah and explains them in 38 detailed points, which constitute a substantial portion of the book. Within these points, he highlights novel insights, linguistic rules, and practical principles that captivate the reader's attention.
Following this, Dr Qaradaghi extracts 49 jurisprudential principles from the Surah, showcasing their relevance to contemporary human existence. After that, building upon the story of the Surah; he outlines the future and the proper way of interaction and engagement for the minatory Muslims.
The second section starts by explaining some of the fundamentals that are the reason and motive for the coexistence of (me as a Muslim) and (he/she as a non-Muslim). Subsequently, the author provides a concise account of the biography of the Prophet Mohammed (peace be upon him) and elucidates his approach to interactions with diverse entities in Madinah and the neighbouring empires. In addition, the author presents a portrayal of the historical behaviour exhibited by non-Muslims towards Muslims throughout history. These narratives collectively serve to offer a comprehensive understanding of the relationship between Muslims and non-Muslims during times of peace.
At the end of this section, the author enumerates key practices in the realm of international relations during peacetime. He also shows us some advanced ethical standards that Islam has set for interaction with non-Muslims.
In the third section, Dr Qaradaghi directs his focus towards the minatory Muslims in Western societies and Prophet Yusuf as a role model and a source of healing for their scars. Through his interpretation of the Surah, he offers guidance on fostering positive engagement with Western societies while delineating their rights and responsibilities.
The fourth and final section delves into the concept of Muslim citizenship in non-Muslim countries. Initially, the author provides a definition of citizenship and briefly traces its historical evolution. Concluding this section, he redefines the concept of 'Home-land' and offers insight into what truly constitutes 'Home.' In the closing remarks, he sheds light on the misconceptions that minatory Muslims may hold regarding non-Muslim societies.
Key details about the book include:
-                  Original Language: Arabic
-                  Author: Prof. Dr Ali Qaradaghi
-                  Translated into Kurdish by Omer Ali Mohammed
-                  Number of Pages: 342
-                  Year of Publication: 2019